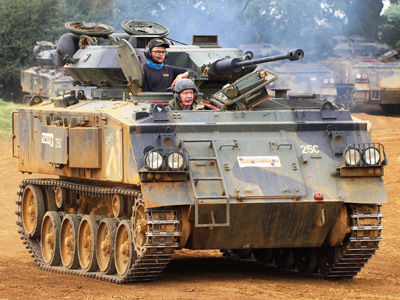 I was in Leicestershire over the weekend as part of a gift generously bought for me by my family. Husbands Bosworth to be precise, because that's where you can get an opportunity to drive around some fields in a FV432 Armoured Personnel Carrier, in this case fitted with a L7 GPMG (de-activated of course).
Thanks to Armourgeddon and particularly Joe who was my instructor for the session on Sunday morning, navigating me, (as commander of the tank), as we went around the course obstacles and up and down the hills.
You have to more or less squeeze yourself inside and wiggle your way through and around all the various bits of equipment to get into the turret seating position. Getting into the driver's seat right in front of the tank is even trickier, especially when you are 6' 1" tall.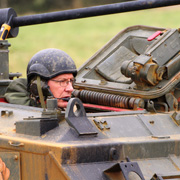 Luckily for me, I've previously driven various vehicles including some with tracks, more recently a 7.5 tonne digger on my brother-in-law's farm. Therefore, the principle of pulling the right stick back to go right and the left stick back to go left was fairly obvious.
What really struck me though, including a few bumps to my head in the helmet, was just how easy it was to manoeuvre such a large and heavy vehicle, 17.5 tonnes I was told, through some relatively tight spaces. Acceleration is surprisingly brisk, even if the gearbox does rather 'grab' the next gear rather than gently ease it into motion.
As a company, using PTC's Pro/Engineer, we have previously been engaged as the primary mechanical design engineering capability for several MOD projects in the past. So I quickly recognised the massive amount of engineering that goes into these vehicles. There's a huge and bewildering array of levers, switches, buttons and all sorts of equipment, all over the place.
Our previous experience working with the design and development of MOD equipment and systems makes us much more aware of the variety and importance of aspects to consider surrounding the vehicle and all of its systems, to keep our amazing armed service personnel working effectively and as safe as possible.