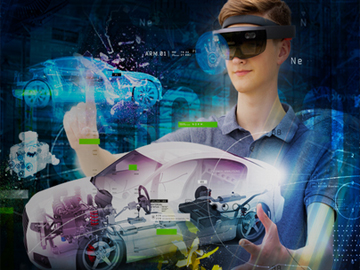 Thanks to PTC and our active maintenance package through Concurrent Engineering, Sanstec Design gets all the latest updates and product communication notifications as soon as PTC releases them.
We're particularly interested to see that CREO 6.0 is now available and can be downloaded etc through the normal channels. We'll be going ahead shortly, with downloading and installing our own copy, so that we can start to get familiar with the latest changes.
As a very quick summary, from our point of view, some of the enhancements include various changes to design collaboration methods, augmented reality, real time simulation, design for additive manufacturing, plus various improvements to the user experience through changes in the interface including mini context sensitive tool bars and various other productivity improvements. There's lots more information on the PTC website.
As always and to ensure that we can support clients regardless of which version of CREO or Pro/E they are using, we'll be running CREO 6.0 alongside previous releases of CREO and Pro/Engineer. We'll soon be able to give more feedback on this new version when we've had a chance to investigate the new functionality and hopefully apply it to projects we are currently working on.
Following the brief review that we've undertaken, we're quite excited about the changes in functionality and enhancements that we've seen and are looking forward to learning how it can benefit our clients whilst we support them through the product design and development cycle.