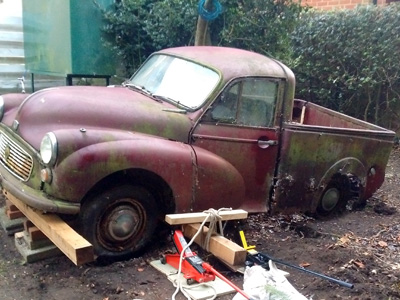 Classic Car extreme recovery
An interesting engineering challenge, requiring a lot of diversified problem solving, was recently presented to us by our sister company, Sanstec Garden, after a client asked them to help out in resolving a particularly sensitive and potentially destructive situation.
Well not really a case of some cataclysmic event, but rather a very awkward and particularly fragile object that was hindering progress on the maintenance and re-development of their customer's garden.
The very, very fragile object in question, happens to be an old Austin 6CWT Pickup from 1968 which was parked up alongside the driveway of their customer some 20 or so years ago. After they had done a serious amount of overgrown shrub clearing, the car was found in an extremely fragile condition.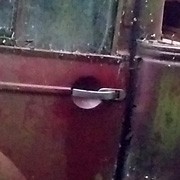 Spending some time back in the office doing some CAD modelling gave us a number of options to work on. Ultimately, we resolved to support what's left of the body and try as much as possible to lift the 'whole' car out in one go, keeping as many pieces together, so that it remains as much a complete package for eventual restoration by a new owner.
The solution we've initially settled on is to create a wooden frame which we are going to slide and effectively construct around and under the car in situ. After that a lifting frame will swing over the car and attach by chains to the lower frame, so that a HIAB crane can lift up and swing the whole car onto the transport.
The challenge has required a lot of generalised engineering, thinking and problem solving thus far. We're now working through the technical details and preparing various drawings and BOM's etc to try and validate whether we should continue with this particular solution.
This is quite a diversification from our normal design engineering activities, but as we are particularly good at solving this sort of conundrum, we believe we can effectively implement an appropriate solution, as we do for so many other customers.
Will it completely fall apart? Keep in touch and we'll let you know how we get on and whether we develop an alternative technical option to moving the car in the end.