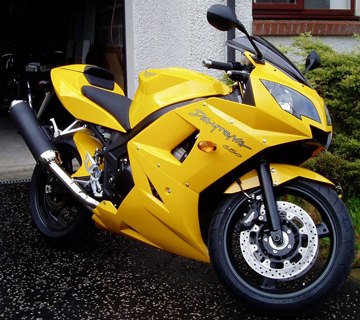 When I was out and about the other day, I found myself admiring some motorbikes parked along the High Street in Colchester and realised I'd become distracted by the design of the different models. I was particularly interested in the similarities and differences of the design and branding for the different manufacturers.
Anyway, that got me thinking about some work undertaken quite a long time ago - nearly 20 years in fact - we had previously done for a consultancy that worked for Triumph. I mused on how much design had or hadn't changed in the last 20 years and was drawn to the fact that I should look at the model we worked on, the Triumph Daytona 600 and compare it to some of the current designs.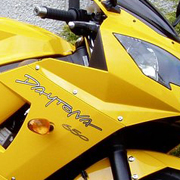 Our part of a much larger project was to take the CAD files consisting of the developed 'A' class surfaces from the industrial design house and convert them into an actual plastic body panel with a thickness and including various features, fundamentally by off-setting the initial 'A' class surfaces in Pro/Engineer and modelling the various mounting points and fastening positions as features within the 3D CAD model.
Sounds simple, well no, actually it's not that straight forward, but more about that in an up and coming Case Study where you can discover how it was 'done'.
Creating the shapes and curvature that defines the form of the external surface is part of the design process (industrial design), how it looks....merging, converging and engineering the features, essentially creates the function.....makes it into a part and how it works.....which can be a challenge, as all design projects often are.
We've had a lot of experience over the years of working on a wide variety of complex design problems which often includes very complex 'CAD'. If you need support in solving your Design/CAD challenges, please get in touch so that we can start to help.
So does the Triumph Daytona look so very different to newer models? Well I guess that's a matter of opinion!